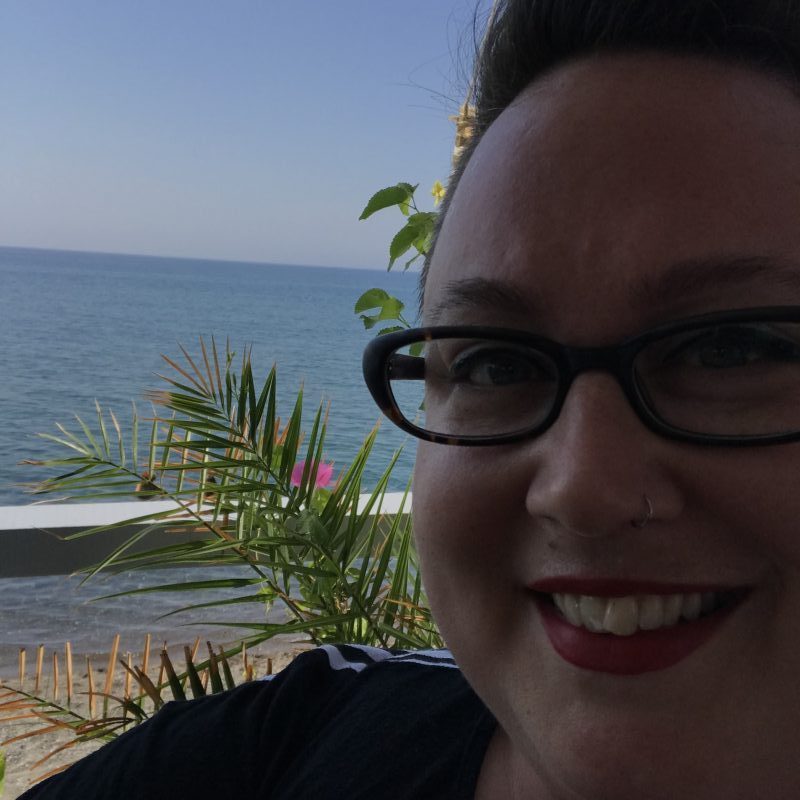 General Thoughts:
Skala Eressos is one of my favourite places on earth. This review is going to skew heavily critical because I aim to give the most thorough examination that I can (from memory, at least) of the practicalities of traveling here in a larger body. That said, I want to clarify that there's no beach where I feel safer and more relaxed and there's no town where holidays have felt easier and more truly restful. I don't feel like an outsider here. Also, I feel like I'm making a concerted effort to contribute to a struggling local economy and community so ethically it feels collaborative and mutually beneficial rather then exploitative and uncomfortable. Living in London means international travel is less expensive than it was from the States, and you'd think I'd be off seeing as many other places as I can (and certainly I have and will do more) rather than returning to the same place time and again – but Skala always pulls me back! It spoils you, really, for other holidays! So I highly recommend the experience if you can manage it.
[
See image gallery at stacybias.net
]
My Stats for comparison:
Height: 5'8″
Weight: Somewhere between 350 and 380
Distribution: I have a bigger belly and upper body with narrower hips.
Mobility: Currently compromised. I am healing from a leg injury and walking long distances is tough.
Flight Route: London Gatwick to Mytilene, Lesvos Greece
Airline: Thomas Cook
The Airport:
Getting from Security to the gate is a minimum of a mile of walking and incorporates a few moving sidewalks. I didn't see any inter-airport shuttles during our early morning flight but I'm sure they can be arranged if required.
The Flight:
Seatbelt Extender: I needed one. It was given without fuss or judgement.
Armrest: I could get it down easily and it didn't hurt my thighs. That said, the recline button is on the inside and my leg pressed against it, making my seat go back. This is a problem because seats upright and armrests down is the required take-off and landing position. Managing both at the same time was problematic. I had to lean forward and/or raise the armrest just slightly.
Tray Tables: Fuggeddaboudit.
Bathrooms: Didn't try as it was a short flight.
Aisles: Quite narrow but manageable for boarding. Wouldn't have liked to traverse them when the flight was full, however.
General Thoughts: Thomas Cook flights are a budget flights and while the seat width is better than some, the pitch is terrible, especially for those of us who are tall with big bums that push us forward in the seats. My knees pressed against the seatback and I had to take my shoes off to get my legs low enough to be able to straighten them under the seat in front of me. It was tight and if I were not next to my partner, I'd have been very uncomfortable.
Arrival:
Mytilene Airport is quite small and doesn't have concourses. Planes land on an airfield and stairs are brought to fore and aft of the plane. For those with mobility impairments, this is something to make note of as there is no obvious accessible entry or exit from the airplane.
From the airplane, passengers board a shuttle that drives them literally 30 seconds to the doorway of the airport. The wait at passport control can be long and sweaty as there are only 2 windows. There is minimal walking as the airport is quite small.
NOTE: Do not flush your toilet paper anywhere on the island of Lesvos. The sewage system can't handle paper. Place your toilet paper in the bins next to the toilets. They are emptied regularly.
Transport between Mytilene and Skala Eressos:
The drive from Mytilene to Skala Eressos is 1hr and 45 minutes. It's a gorgeous ride through the countryside and up/around mountains. It's winding, so if you're prone to motion sickness, take measures (I use dramamine).
I travel with a large group of friends. Because of this, we tend to arrange for a shuttle to pick us up rather than taking individual taxis. This is great for cost-effectiveness but bigger shuttles are less common and more prone to breakdowns. It's never actually gone smoothly – either reservations have been forgotten or the shuttle has needed repair. This is part of the experience of traveling to an island. You have to adopt a go with the flow approach. The good news is the airport is right across the street from the sea so you can wander over and dip your toes in while you wait for repairs or replacements.
To arrange airport transfers, contact
Sappho Travel
:
http://www.sapphotravel.com/
(real-talk, you need to quadruple-check any reservations you make here. Call, call again, call a few days before and call again the day before. They're your best option but they're DISORGANISED. I am NOT kidding.) Shuttles vary in costs but private transfer (taxi) is around €120. Not cheap.
Taxis/Shuttles will generally not take you directly to your hotel. They will drop you at the car park in the middle of town. Google Maps is not great for Skala Eressos but the good news is that the town is literally a mile across from tip to tail so wherever you wander, you won't be far from where you need to be.
The Town of Skala Eressos:
As mentioned, the town is literally a little over a mile across, from the furthest tip of the boat pier to the end of the public beach. The streets are cobbled so be advised for those with balance or mobility concerns – bring sensible shoes to help compensate. Nearer to the boat pier, the town is hillier and hotels tend to be up several flights of stairs, so if you want to avoid inclines and stairs, stay on the opposite end of town.
Near the car park are all the grocers and bakeries as well as places to procure beach items like snorkels and beach mats and sarongs. Walk towards the sea and you'll find yourself on the boardwalk entrance where seafront restaurants and bars stretch to the left and right. There are stairs and a narrow boardwalk in the sand that separate the two sides of the boardwalk. If you want to avoid the stairs, just walk back towards the shops and then take the street that runs parallel. There are entrances back to the boardwalk between the buildings.
There are feral cats everywhere but they're generally well-behaved. They'll circle your ankles at restaurants and say hello to you on the streets. It's great if you're a cat lover! Do be mindful when feeding them as some have better table manners than others.
Restaurant Seating: Most restaurants have the same typically greek restaurant chairs. The good news is, no arms! The bad news is, they're still really uncomfortable. They're wooden squares with a woven seat and the legs tend to poke up above the seatback, which means they poke into your bum and upper thighs. It's great for restaurant turnover, I'd imagine, but not so great for a relaxed meal. I actually bring a little inflatable pillow with me 'cuz ow!
Bar Seating: Most bars have a mix of short couches/benches and narrow director's chairs. The benches are nice but tend to be wet from swimmer's butts, so check the cushions before you sit. The director's chairs are hit and miss for me. Sometimes I fit, sometimes I don't. There's no method to it, it seems. Just luck.
Restaurant/Shop Reviews:
Toilets: There's no 'downstairs' in the seafront restaurants ('cuz downstairs is the actual sea), so you needn't worry about stairs down to the loos. However most of the toilets are tiny and wedged into the storage areas near the kitchens so do bear that in mind and plan ahead. Restrooms at the bars are often better than those at the restaurants.
Local specialty: Saganaki – it's a pan-seared greek cheese starter and my group writes actual songs about it. Also the tomatoes in Greece are something else entirely. Eat all the greek salad you can!
The local bakery is gorgeous and stuffed full of traditional Greek delights as well as fresh bread daily. They also have a little freezer cabinet of 50p ice creams in various flavours that people can't stop going on about.
There's a little Frozen Yogurt shop next to the bakery that's a delight on hot evenings. The Pistachio syrup is weird and amazing. For the lactose intolerant, they have blended ice drinks as well.
For quick, cheap meals – there are two Gyros shops very near the seafront and down a little side street from the boardwalk. Delicious, fast, and affordable if you're watching your budget.
The best fresh seafood is the Blue Sardine where Kostas takes special care to attend to every table and will sit down at the end with you to figure out the bill.
The slow-cooked Lamb at Adonis nextdoor is also wonderful.
The Flamingo Bar is lesbian-owned and tends to cater to the 50+ crowd. Their blended margaritas are amazing on a hot night but their mixed drinks are a bit clumsy.
The Belleville Bar is lesbian-owned and has a nice bar with comfortable seating but the food service is SLOWWWWWWW (over an hour's wait) and disorganised.
The Parasol Bar wins for ambiance and cocktail quality but is difficult to get into in the evenings. Their brunch is lovely as well.
Margaritari has lovely cakes and nice toasties when you want a light lunch or snack by the sea.
Buddha Bar is lesbian-owned and home to the famous daily women's rock swim and has a lot of healthier food options and nice cocktails.
On the interior of the island, there are a few smaller bars and restaurants – a jazz bar whose name I can't recall, a lovely place called The Garden that does gorgeous slow-cooked meals (it's a long night but a lovely setting — though bugs do tend to drop from the overhanging foliage!) and it's perfect for a date night, and a gorgeous open air cinema showing feature films. (Get there early to secure a bench if you're wider in the hips.)
Accommodation:
For those who require wheelchair access, I would recommend the Aeolian Village. While it's largely separate from the town of Skala Eressos, it's definitely more clean, accessible and well-maintained. I've not stayed there so I can't speak to its level of accessibility but a cursory google sounds much more promising than the town itself.
As an aside: the Aeolian Village is an all-inclusive resort with its own pool and private beach and it's much more heterosexual and family-orientated. It's very closed-off from the local community and a source of contention within the struggling local economy so if you're looking for an ethical holiday and you don't require it for accessibility purposes, I'd avoid it.
In town, I'm not going to review any particular place because we've stayed at various spots and they're all similar enough to generalise. Wherever you go, there are likely to be some stairs – either up to the entrance from street level, or a full flight to a second story. Request ground level if you want to minimize stair usage, but expect there still might be at least a few stairs to your doorway.
Shower situations can be tight but most hotel bathrooms are wetrooms so if you pack up the toilet roll and use water sparingly, you can get away with leaving the shower curtain partially open for extra space. Maybe ask for extra towels if this seems like something you'll need to do. I've not yet seen a hotel in town with a truly accessible bathroom or entrance.
Most places have some kind of balcony where you can sit out and hang laundry to dry. These will have some variation of table and chair, most likely plastic. True sea view hotels are rare as the town is rather flat and the hotels are all behind the boardwalk so don't be too fussed about this. You're never more than a few feet from the beach in any case and there are plenty of opportunities to sit and watch the sea.
The beds are generally double beds or two singles pushed together. Americans will be surprised by the size as we're used to queen beds. Doubles are a fair bit smaller. The mattresses are thin and a bit hard going. Definitely not a luxury sleeping experience. I bring my own pillow 'cuz I'm fussy.
The Beach
The beach is a mix of sand and small pebbles. Sometimes there are bigger rocks. It's not firm ground so it's a workout to walk on and if you have sensitive feet, I'd recommend you not take the sand barefoot and have water shoes to help getting in and out of the sea.
There are a couple of beach snack stands. The one nearest the nude queer beach is the Turtle Bar and it has a mixture of bench and director's chair seating. You can purchase drinks and snacks there and there is a public toilet, utilised by the camping grounds just behind the Turtle Bar, whose keys you can ask for at the counter. (though the last time I went in, it was literally just a massive hole in the ground inside a building. I'm not sure what it is now as I've never been brave enough to go in again)
From the street to the Turtle Bar, on the left-hand side, is a small wooden boardwalk that can minimize beach walking if you need it. There is another wooden boardwalk from the street to nearly the water near the kayak rental nearer to town, and you can also rent daybeds there.
Sea entrance is a mild slope — deeper in some places, shallower in others. There are rocks on the sea bottom that vary in size from baseballs to footballs (though, you know, not actually ball-shaped) and they can be a tad slippery so watch your step in and out.
The water itself is super salty so you'll be very buoyant and it's a good temperature – bit chilly on entrance and then amazing in the hot sun. It's beautiful clear water and generally quite calm. Honestly, my favourite place in the world to be!
The nude queer beach resides in the space between the terrapin pond and the volleyball net. You'll know what I mean when you see it.
Culture
There is definitely some fat-related staring that happens amongst the locals but I expect it's as much that I am tall and have a high undercut and I wear a lot of black and am generally in a gaggle of queer oddballs as it is that I'm fat. No one's ever been outright rude to me and I feel safe on the beach in various states of undress. So really, no greater or lesser frequency of fat-hating jerks in Skala Eressos as anywhere else.
The Sappho Women's Festival happens in September every year. In the weeks leading up to it, the town is more populated with greek families and less so with lesbian/queer folks, though there is always a small presence, especially amongst those that spend months in Skala over the summer. For those who make a cultural distinction between Lesbian and Queer, this place leading up to and during the festival is more heavily Lesbian than it is Queer, and the organisers of the women's festival are about 15-20 years behind the times in terms of queer politics. I witnessed some tone-deaf racist and fatphobic 'banter' at the fashion show in 2016 and did not attend the festival this year (2018 – this was due to timing and not necessarily a specific avoidance of the festival period as it's easy enough to choose not to go to events even while the festival is happening). I travel with a large group of Queer/Trans/NB folks and we're our own insulation but I do wonder if it could be uncomfortable for Trans and NB folks traveling on their own or in smaller groups, though I have never witnessed outright TERFy behaviour. I mention it only to be mindful but not to discourage travel.
There is a large population of 50+ locals in Skala Eressos and I actually don't see many young children around. I expect tourist families with young children stay at the Aeolian Village as they have a creche. Also, we tend to eat late and the nude beach isn't often attended by families, so we might just not be running into many. So if you're looking for a more 'adult' holiday, this is a pretty good bet. Attendees of the Women's Festival run the gamut but I do think the age range skews slightly older – 30+ at least.
.
via Stacy Bias - Fat Activist and Body Image Campus Speaker https://ift.tt/2PAi6XI